We provide real-time e-mail notifications on bond rumours. You have the ability to reduce the number and type of rumour sent to you using our special user configurable e-mail filtering.
E-mail notifications can be filtered by bond type (emerging markets, high yield, investment grade, Floating Rate Notes and Asset Backed Securities) and by currency (multiple currency selections per bond).
We have a special bond reports section providing detailed analysis on new bond issues.
Our service is a subscription service. We can provide a global contract or various subscription options.
BONDrumours identify market moves and trends. They are great for helping bankers, issuers and investors to make trading and investment decisions.
Free Trial
If you would like to take advantage of our free trial then click on the subscribe button on the left. Registration is quick, easy and free.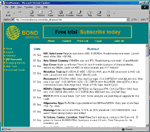 OTCscoop brings you BONDrumours.com - the place to come for market leading rumours and analysis on the global and eurobond markets.
Do you want to know what your competitors are working on?
Do you want to be ahead of the market?
Do you want to know what bonds are coming to the market which could affect your trading positions or sales targets?
If you answer yes to any of these questions then OTCscoop.com's leading BONDrumours.com web site and e-mail service is the one for you, delivered straight to your desktop.